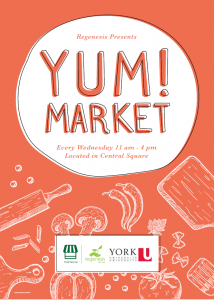 We are proud to present you our market every Wednesday at Central Square from 11 – 4pm! York University Market (YUM!) is a weekly food and crafts market organized by Regenesis York, with support provided by York University Food Services.
We want to provide the access to a diverse selection of fresh & healthy, locally-grown, locally-made or locally-sourced, fairly-traded, natural and organic foods & products using a model that creates the least environmental impact and reflects the diversity and values of the community.
For more information about weekly vendors and updates, please visit the Regenesis website.